Kaline is making out like a bandit this Solstice. (Happy Solstice, everyone!) His presents just arrived, one right after the other—first a red Cloudchaser (because Juno's is grey), and then his Paco collar. I also got him a Halti, since we were having so many issues with the Infinity collar loosening constantly during the walks, but he doesn't consider it a present. It has a nice padded noseband though and it stays where it's supposed to when I put it on.
Kaline models his new collar. The people at Paco Collars did everything possible to make it nice for his neck.
Closeup of his conchos and "rhinestones."
He and Juno look so freaking cute together in their semi-matching coats with their blinking lights on top. Worked great in the rain today. I still hate rain, even though now I have all waterproof gear (shoes, pants, jacket) and so do Juno and Kaline.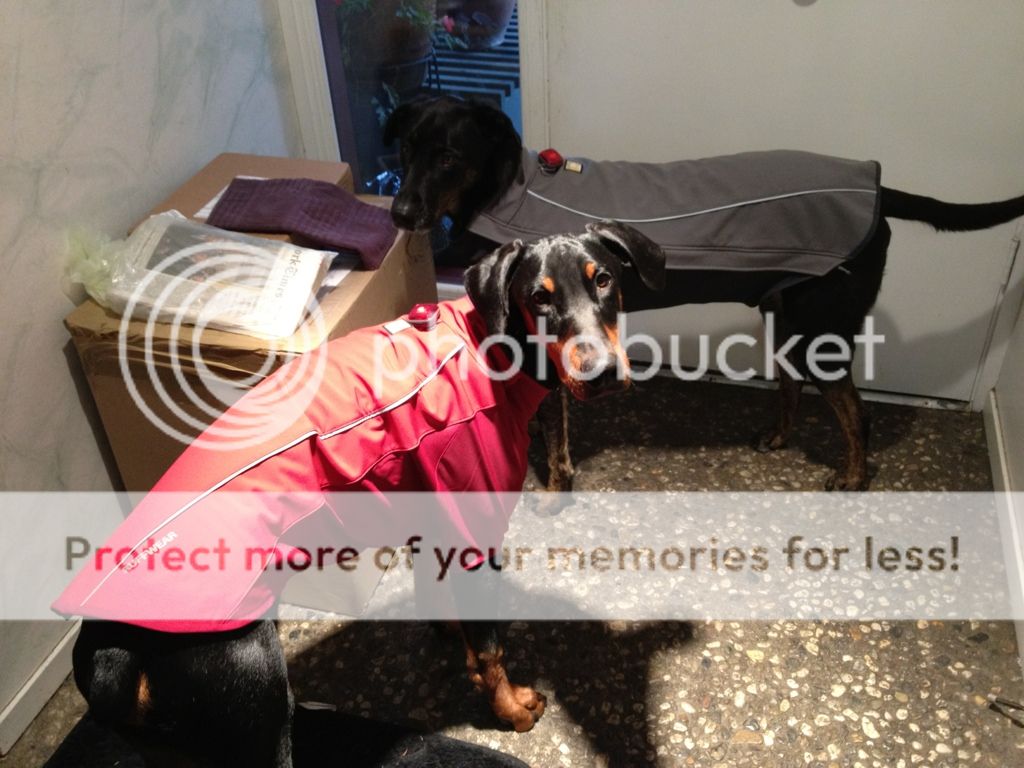 Ready to get out and start the pack walks.
Everyone had long afternoon naps, so when Mom asked if Kaline and I wanted to work in the mall while she shopped and did errands, we were raring to go. It was cold and intermittently wet, so he wore
all
his stuff, his jacket, his vest, his Halti, his new Paco collar. He looked so cute.
Kaline wearing ALL the gear.
And he was such a good boy! We went to Macy's, Bloomingdale's, the Gap, Nordstrom, Safeway and Kepler's (he went to Kepler's off-duty). He pulled a bit, and tried to rub off the Halti sometimes, but largely he was excellent. We were working on simple stuff: basic obedience when asked, not pulling, not sniffing things, and most of all, settling. He got lots of compliments on how handsome he is and how nicely he was behaving. No intrusive questions, just fun ones. The best was when a lady asked what we were working on today, and I gladly told her. "Oh, puppies," she said.
Settling by the shoe racks.
Ignoring Christmas food and candy.
Down stay next to the escalator.
Kaline hit all the handicap buttons and then as a finale, settled beautifully when we went for dinner at the cafe in Nordstrom. He settled immediately and he didn't get up again until we were almost ready to go. I think he was cold, even in his coat and lying on his cushy mat. I couldn't stop grinning, and that is not a state I have been in at all lately.
At dinner, being a little pro about quietly holding his down.
The little man was quite good in Safeway, though he was a little bit unsettled by these middle-school age boys marching around singing Christmas songs loudly and off key, in a strangely belligerent way. I have no idea what they were doing there—it was like their parents dropped them off and said, "Go amuse yourselves in Safeway, kids." I was kinda unsettled by their singing too. He got over it after a little while (and several treats).
Kepler's he was terrible because he just wanted to go back to the front and get more cookies. But he was off-duty and he'd been working nicely for a long time—it was obvious he'd had it. I was super proud of him for being such a stand-up little guy tonight!